~I'm not the kind of person who trains non-military troops, but you, might be a exception...
~General Jake to Daria, first war discussion after battle.
General Jake (Known mainly as Jake Levitan II), is a member of the Darasin Heroes, and a military general of Sage Aveila's military which is now run by Sage Ellis and her sisters. He first appears in the second war as a playable character, and is known to be the husband of Trainer Dartusha.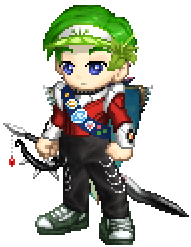 In the first war, he wore a black shirt, black jeans, with black hair and had a dark like sword. In the second war, he retained the same look, but with a smaller weapon and a shield. After that, he had a sash with stickers, and modified to a different look.
Bio:
Place of Birth: Loradin
Age: In the 30s
Alignment: Good
Allies: Sages, Kairne, and her allies.
Enemies: Tara and her allies.
Status: Alive
A brave military general who follows in his own lead, he takes place of Jarek after he was expelled from the military. Later during the war, he met Dartusha, and a relationship met when they first met.