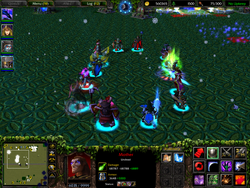 "It smells your scent"
-One of Karla's being following the party in Loradin city
Karla, one of the most pale characters in the series, makes her first appearance in the dark world. She becomes playable and can be found in the dark world. She is required to be in the party for you to purchase things from the beings to prepare you for the battles that are ahead. She is also required for mother to become playable and to defeat Ellis.
However, she shows little to no emotion and never is enraged about the fact of her grandmother's death in the hands of Ellis. She is a elite being having very little magic and not possessing good skills in the art of magic due to her very unstable appearance and nature of the arts.
Karla also appears as a playable character depicting that she survived because of her grandmother, she successfully lived throughout and managed to kill as many of Ellis's minions. Before Karla confronts Dartusha, she see's her, and casts a crushing wave in a vain attempt for vengeance for her grandmother's murder. However, she is stopped by Dartusha and Jake and they tell Karla that Ellis is not responsible for her grandmother's death. Karla believes the truth, and agrees to join. As soon as Ellis is severely wounded, she teleports and escapes away to avoid death and ressurection, Karla gives up the last of her power to allow Ellis to recover, and when Mother and Calclic defeat Tara, Tara revives again. Tara once again creates more soldiers but they are killed and defeated along with Tara. And for exacting vengeance, Karla returns back to Mother after Ellis recovers to witness Tara being killed by Daria in a act of revenge. Two years later, she recovers and lives her life in her town and goes to the graveyard to see her grandmother's grave.